Server Administration Services
---
Level 1
free

Basic
Server Analysis
We'll provide baseline information on the state of the OS
Obsolete components and potential vulnerabilities tracking
A plan of updates and further support strategy.
Order Now
one-time
fee of $20.00

Advanced
Server Analysis
Basic server analysis
Collecting stats on key indicators in system resources utilization
"Bottleneck" discovery
The strategy of system optimization (on both hardware and software levels).
Order Now
Basic or Advanced server analysis is
the initial stage for any of the following:

Level 2
$40.00/hr

Troubleshooting
Server Issues
Research of the causes of the issue
Searching for the solution and resolving the issues
Providing a report on the work performed:
- diagnostics
- measures taken to troubleshoot the issue
- preventive measures taken to avoid the issue in the future
Order Now
one-time
fee of $20.00

Basic
Server Setup
Free for Natcoweb Hosting Clients
Pre-installation of the server software using our standardized template for LAMP
For non-standard requests, the cost of preparing the environment is charged at the rate of $ 40 / hour.
Order Now
Level 3
Server Administration Packages
$20.00/mo
one server
Starter Plan
Monitoring of basic services availability
Sending notifications to a client when an alert is activated
1 hour of server administration
The cost of extra time : $40.00/ hour
Maximum response time : 30 minutes
Order Now
$40.00/mo
one server

Basic Plan
Monitoring of basic services availability
Taking measures to recover services availability in emergency situations, sending notifications to a client
2 hours of server administration
The cost of extra time: $40.00/ hour
Maximum response time: 30 minutes
Order Now
$80.00/mo
one server

Advanced Plan
Monitoring of basic services availability
Sending notifications to a client when an alert is activated
3 hours of server administration
The cost of extra time : $40.00/ hour
Maximum response time : 30 minutes
Order Now
$200.00/mo
one server

Professional Plan
Tracking relevance of OS components, regular application updates
Advanced system monitoring, taking preventive measures if the alert is activated
Monitoring availability of basic services
Taking measures to recover services availability in emergency situations, sending notifications to a client
5 hours of server administration
The cost of extra time : $40.00/ hour
Maximum response time : 10 minutes
Order Now
---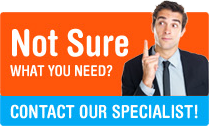 ---